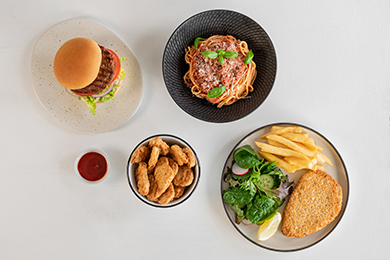 Developed with over 100 years of food and science research from CSIRO, and founded in 2019, v2food makes alternative protein products that are good for you and good for the planet.
With a population predicted to reach 10 billion by 2050, v2 recognised there was a need for a "version 2" of the food system. In response, the company developed a range of plant-based meat products designed to look, cook and taste just like the real thing.
Growing plants to make meat enabled them to take CO2 out of the atmosphere and put it back in the soil, directly tackling climate change issues.
Embraced by chefs across Australia, you'll find v2 products in a range of venues, from Hungry Jack's to Varsity, to ALH Group and even Neil Perry's Margaret restaurant in Sydney. Now, more than ever, venues across the country are looking for plant-based options for customers.
v2mince and v2burgers, launched in 2019 with v2nuggets and v2schnitzel launching into food service in 2022.
Suitable for people with various dietary preferences, v2 is passionate about ensuring their products deliver great taste and texture, have minimal processing and are non-GMO, they also ensure you get the same hit of iron and B12 as you would from meat products with additional benefits of fibre.
Order your free sample today and see what all the fuss is about!