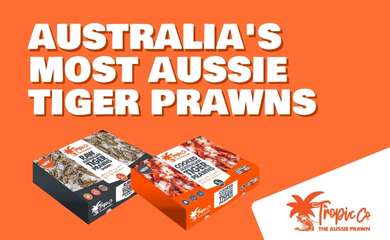 At Tropic Co, we are proud to provide high-quality, world-class tiger prawns with Australia's largest and most sophisticated prawn farm network.
Our prawn farms are located across the coastline of tropical north Queensland and northern New South Wales, with Australia's largest farm located near Gregory River.
The diversity of our prawn farm locations means that we can filter water from the ocean and estuarine river sources next to our farms, resulting in water quality that is one of the highest in the industry.
The warm tropical climate maximises our prawn harvest season, and as we have multiple farms, we are able to harvest fresh prawns over an extended season from November to May, providing a reliable supply of premium tiger prawns.
Our farms, processing facilities and supply chain are fully controlled and owned by Tassal Group, experts in aquaculture for over 35 years.
We are excited to be delivering sustainable growth to the Australian Tiger prawn industry through innovation, technology and responsible farming, with our overarching strategy of producing the best tiger prawns in the world.
Why Tropic Co, you may ask?
Proudly Australian grown, and supporting local communities with employment
Responsibly grown and accredited by Best Aquaculture Practices (BAP) and Aquaculture Stewardship Council (ASC)
Harvested, processed, and packed at our onsite facilities within a matter of hours, to deliver optimal freshness
Vertically integrated supply chain, bringing the freshest prawns to market
Smart farming automatic feed system provides on demand, around the clock feeding for optimal prawn health
We collect our own breeding prawns with our vessel (Xandao) for superior breeding quality, handling and traceability
Nutritionally rich: low in fat and good source of protein and Omega 3
Learn more about Tropic Co at www.tropicco.com.au or follow us on social tropicco.theaussieprawn