Kooka Brotha's are in the business of making delicious, high quality artisan cakes, desserts and savouries for your business and have been a proud supporter of Countrywide for many years.
Their aim is to make your catering as simple and convenient as possible; with Kooka Brotha's help you can concentrate on looking after your customers, while still achieving high-quality in-house look, feel and taste.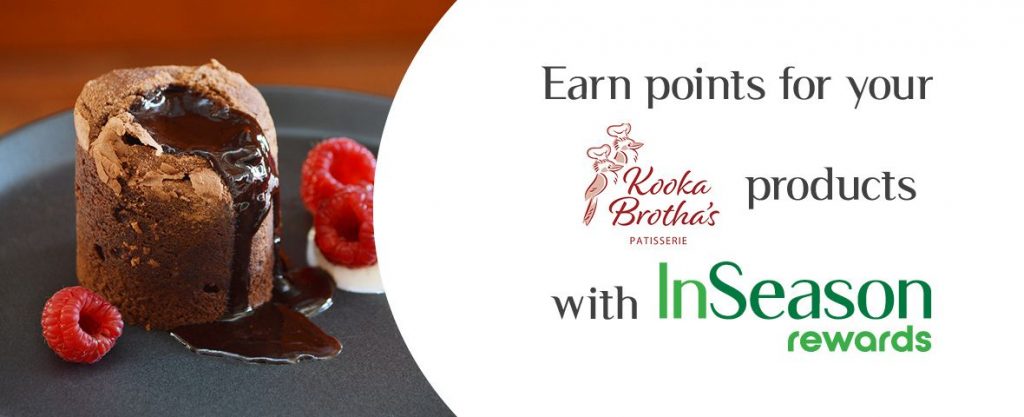 Since 1987, Kooka Brotha's have gained the reputation for producing premium, natural cakes, desserts and savouries from some of the best ingredients in the world. They have been refining their Gluten Free items for over 15 years so it's no wonder their top selling products just happen to be Gluten Free. Whether the product is Gluten Free, Dairy Free, Vegetarian, Vegan or a combination, their outlook is still the same. It must taste great, no compromise.
Kooka Brotha's have the "from scratch" mentality and focus on natural ingredients and preservative free. Their rapid freezing process locks in nutrients, makes the product robust for transport, minimises food wastage and is the only preserving process they use.
Their cakes, desserts and savouries are designed to save you both time and money – from having items pre-cut for that in house look, smart foods and portion options so you can choose which suits your specific requirements. Kooka Brotha's can help you look after your customers whilst still achieving the highest of food standards.
Some of their most recognisable products include Sticky Date pudding with Butterscotch Sauce, Chocolate Brownie Slice, Raspberry Pavlova Roulade and their Large Savoury Quiches.
Kooka Brotha's pride themselves on the research, development and consultation with patrons and are thrilled to offer 16 new products both and savoury.
Included in the new range you will find fan favourite products now available in individual portions, both large and single portion cheesecakes, Vegan Sweet and Savoury products that are also Gluten Free, Chocolate Hazelnut Fudge Cake, Tray Format Quiche as well as Cocktail Sweet and Savoury Bites perfect for those catering and function areas, delightful Savoury Vegan Tarts, Blueberry Muffins, Date Scones and Orange Almond Cake just to name a few.
They have also refined some of their pre-existing products, filled them with more flavour, different varieties and they are confident you will love these changes.
If you would like to receive an electronic version of Kooka Brotha's brand-new brochure or would like to discuss the range you can contact them here or on the details below.
Kooka Brotha's Patisserie
P: 02 6056 2828
E: sales@kookabrothas.com