Upon the release of Riviana's new Burger Sliced Pineapple, Riviana took to their Foodservice Facebook page for a little promo piece. 621 comments later and they realised that people have some strong opinions on pineapple in food. First it was pizza, now burgers, where does the madness end? Coming from the recently converted, Riviana hope that this article might open you up to the possibility of giving the prickly pineapple another chance.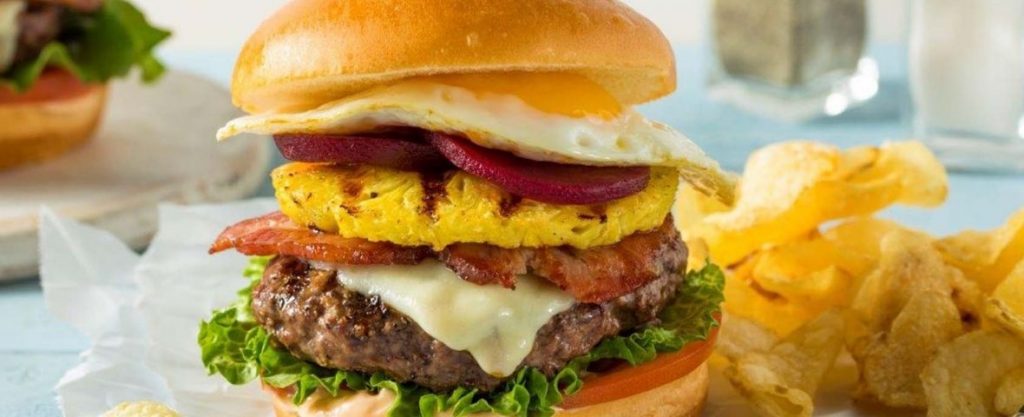 Whether it's mum's famous upside-down cake or perhaps something more savoury, the pineapple has proved time and time again that it's here to stay. With burgers being the latest hot topic of debate, here are a few reasons why the bright yellow fruit belongs in your burger:
How good does it look?
A good question to ask your front of house staff (the next time that there's a ceasefire) is how often customers are whipping out their phones for a snap of their food. Customers are increasingly likely to grab a shot of their meal so what better way to stand out than a bit of extra colour. Riviana's new Burger Sliced Pineapple boasts wider, thinner slices. This showcases its bright yellow complexion, around the entire burger. Add a little beetroot in there and you're on your way to all the colours of the rainbow.
Get your customers talking
There's no better conversation starter than a ring of grilled pineapple, smack bang in the middle of your burger. Many customers really enjoy analysing a menu. Not only is it exciting to see what's on offer but it's also a great way to pass the time whilst 'old mate' makes up their mind. With pineapple's slightly controversial status, it's a great way to get the table buzzing both before and after the meal arrives.
No thanks, I'm sweet enough
We've left the taste aspect to last, because let's face it, that's the deal-breaker. "It's a fruit, sweet, juicy… and you want to put that in my burger?" Yeah, we've all thought the same thing. But by adding a slice of pineapple there's an opportunity to enhance its flavour, with a slightly different profile. Pineapple is used across many different cuisines, so there's potential to get creative if the traditional Hawaiian style isn't your thing.
Ready to jump on board yet? The new Riviana Burger Sliced Pineapple is available through your local Countrywide Distributor. It has been designed specifically for burgers, so that it fits and is seen. If you want to chat about how you can incorporate Burger Sliced Pineapple into your menu – get in touch!