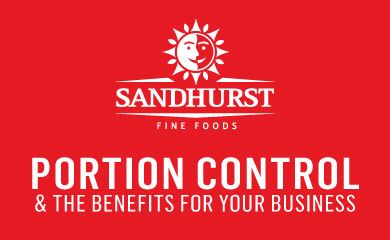 Portion control is a single serve food product that is normally consumed directly by the customer at the table but in QSR (Quick Serve Restaurants) the concept has been expanded to refer to ideas that save time, money or both.
The idea of PC came about when restaurants were concerned about theft and hygiene for items like sugar and condiments. The fast-food chains developed these as dipping sauces for Chicken Nuggets while Dairy companies developed PC butter for better hygiene and transport.
The Jams and Marmalades market developed 'foils' after small jars were prone to 'shrinkage' (stealing) as well as high cost. Major companies now offer many alternatives and diners now 'rate' the breakfast by the choice of condiments and jams – cheap foils vs expensive mini jars – depending on the location and perception of the hotel chain.
PC became very important when nursing homes were serving main meals of proteins and wanted to ensure that each guest received exactly the same portion size. It was then applied to proteins including schnitzels and seafood. Fine Dining is now even more responsive to portion control and will pay extra for meats that are precisely cut to reduce wastage in the kitchen and save on prep times.
Stripping your Antipasto costs
In the world of Sandhurst condiments, we offer a myriad of Portion Control Products to assist in cost saving and distribution of product. For example, Sun Dried Tomatoes can be costly but buying strips will chop your expenses literally to pieces.
Our range of "Strips" includes Red Roasted Pepper Strips and Char-Grilled Eggplant Strips.
In the world of Olives – there are many alternatives for portion control. Sandhurst invented the "Barchetta Olive Halves" back in 1991 to address the problems of Sliced Olives and their lack of flavour.
People loved Kalamata Olives but they were more expensive than Spanish and there was always a higher risk of seeds in the pitted Kalamata Olives. Sandhurst conducted an experiment to see how much a pizzeria would save by 'halving their olive costs' and the result, around $1000 per year!
Spreads and Sauces – all the flavour with a controlled cost and dispersion of product.
Items such as Olive paste, Pesto, Sun Dried Tomato Spread are great examples of portion control as you are using a concentrated version of the original product. A serving of Pesto, for example would cost the end-user around 30c and makes a very profitable flavour enhancer for chicken, salad, seafood etc. People then 'add' to products like Olive Paste to make tapenade – further increasing their use and differentiating their offer from the 'next guy'.
Saving time, labour and protecting consumers
All in all, the work has been taken out of chopping and dicing by modern machines. These ensure that each piece is precisely the same as the next. The cost of these condiments in the finished product are less than 5% of the sell price of the end-dish. It means that foodservice professionals can afford to spend a little more on consistency and quality which comes with the Sandhurst Family Seal of Approval.