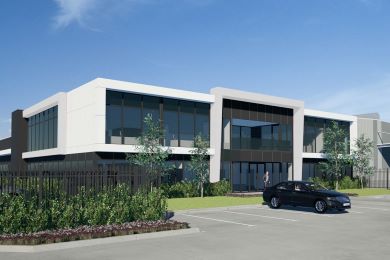 The Country Chef Bakery Co., who create some of Australia's favourite desserts such as pavlova and banana breads, have recently brought their four bakeries across Queensland and New South Wales under one roof in a brand new custom-built, best-in-class site at Caloundra's Sunshine Coast Industrial Park.
The new $30 million, 100% Australian owned, 25,790 square metre manufacturing facility is the equivalent size of 99 tennis courts or 21 Olympic size swimming pools or 3.5 rugby football fields.
The company, that commenced operations in Nambour in 1992, will relocate from its current facility in Kunda Park to the new state of the art facility that will also become its national and global head office. This expansion will create more employment opportunities and even more delicious tasting products!
The new $30 million production facility was needed to meet the growing needs of its customers and consumers.
This new Caloundra location represents a new dawn for Country Chef, enabling a continuation of their vision of creating delicious solutions that satisfy customers' needs. Having outgrown their production capacity at Kunda Park, their fabulous new facility will better equip them to service their customers.
Centralising three production facilities across Queensland into one location in Caloundra provides a far greater capability to continue to grow their business on the Sunshine Coast.
Each year Country Chef produces over 25 million serves of Pavlova and Meringue, which is enough to serve every person in Australia. Their ability to expand operations on the Sunshine Coast to supply product on a large scale nationally and internationally, recognises the region as one of Australia's most dynamic locations for food and agribusiness.
Country Chef's new Caloundra location within the Sunshine Coast's largest industrial precinct, provides them with easy access to ports, airports, major road networks and rail. Located just 5 minutes to the Bruce Highway, not only allows them to quickly transport products to market but is also better positioned for their local suppliers like freight companies, printers, raw materials and packaging companies to partner with. Being also within close proximity to Queensland's fastest growing residential community at Aura, provides their current and future staff with an enviable live, work and play Sunshine Coast lifestyle offering.
Check out more from Country Chef: https://www.countrychef.com.au/