Kooka Brotha's are in the business of making delicious, high quality artisan food for your business, using only the finest of ingredients with no added preservatives.
The aim is to make your catering simple, easy and convenient whilst you concentrate on looking after your clientele. Since 1987 Kooka Brotha's have gained the reputation for producing premium, natural cakes, desserts and savories with a focus on gluten free, vegan and vegetarian products. We have a "from scratch" with timeless classics including Lemon Meringue Pie, Apple Pie, Chocolate Brownie slice as well as responding to new trends with their Chocolate Hazelnut Fudge Cake which is both Vegan and Gluten Free. Whether the product is gluten free, Diary Free, Vegan or a combination, the outlook is the same. It must taste great, no compromise.
The rapid freezing process locks in vitamins which makes the product robust for transport, minimises food wastage and is the only preserving process they use. Their products are designed to save you both time and money, from precut options for that instant professional look, smart foods and portion control options they have a variety of products to suit your specific needs.
Now more than ever Kooka Brotha's believes you need to have clear and concise information when choosing products that best suit your individual business and this is something they pride themselves on.
The product range includes Sticky date pudding with a Butterscotch Sauce, Carrot Cake slice, Chocolate Brownie slice, New York baked Cheesecake, Quiche Lorraine, Pumpkin Mushroom Tart and cocktail products.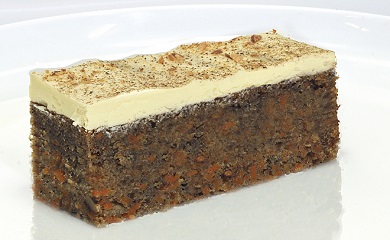 For more information, please contact their Sales Team who can direct you to their local distributor:
Contact: (02) 6056 2828 Email: sales@kookabrothas.com Website: www.kookabrothas.com